Lets Compare Litestar and Pulse
How to Identify a Litestar or Pulse
---
Comparisons of Manufacture
After the BD-200 prototype was hand built by Jim Bede, there were a couple more autocycles built before a steady production was started. For lack of a better term, we call these Pre-production units. And some of these were later titled and sold. So this adds to the confusion when discussing serial numbers.

Molds were made from the BD-200 for the Scranton, Iowa built Litestars. When production was moved to Owosso, Michigan, another plaster-type model was made from the BD-200, so that new molds could be made in Owosso.

All Litestar and Pulse vehicles used similar frame and body panels. The differences are the engines used, headlight treatments, winglets, vents and available options during the production run between 1982 and 1990.
---
The BD-200 Prototype
Early photo circa 1980.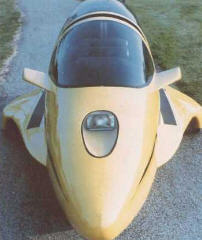 Below is a more recent photo.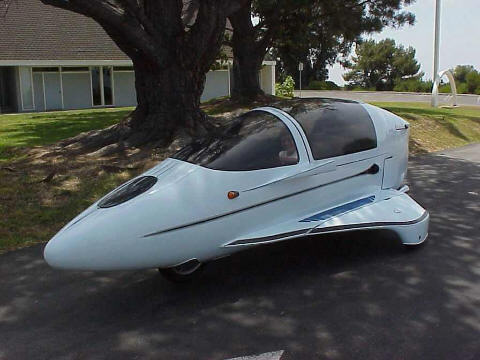 Notice the single recessed headlight and
the shape of the winglets for the outrigger wheels.

According to Robert McRay, fromer BD-200 prototype owner, "Jim Bede also made a few "autocycles" using the stretched motorcycle setup. These vehicles can be seen in the brochure that depicts the "load testing". For this reason it could be said that there are many "prototypes" created, but from my conversations with the people who worked on the project, there was only one prototype ever made (the BD-200)."

"During the restoration of the BD-200, I altered the rear intake vents to accomadate cooling fans to blow on the cylinder heads during low speeds (this modification is fully reversable) . They went from a triangular shape to a round shape", Robert added.
Another difference between the prototype and production models is the BD-200 has a "chain and sprocket" steering" configuration. Bede said that it is very safe and that some aircraft utilized it for their control systems.
---
---

BD200 with TOMORROW printed on the side.
This photo is from the

Circa 1983....Litestar Price List of
Midcities Litestar Dealer of Arlington, Texas

Notice the Litestar Models that were available.
Model 250......Honda 250cc Twin Cylinder...$4,495.00
Model 450A....Honda 450Acc Twin cylinder Automatic....$6,045.00
Model 750....Honda 750cc 4 Cylinder Water-Cooled 5 Speed....$7,695.00
---
HEADLIGHT IDENTIFICATION
Below is a Scranton built Litestar
Notice the two recessed headlights and the winglets have a similar appearence to the prototype above. The 15 Scranton built Litestars were produced in 1982 in Scranton, Iowa.
All Litestars manufactured in Scranton had:
2 recessed head lights - each in a tube
plastic front windscreen without wiper
Honda 450A Hondamatic
Small rigger tires
Smooth outrigger wheelpant housing (no bubble)
Turn signal lights (look like truck clip lights)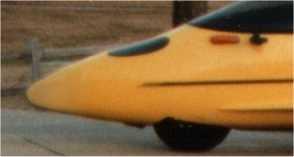 Above......Boyson's Scranton Litestar #001
Above......Scranton built Litestar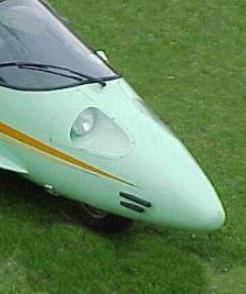 Owosso Motor Car Company used the dual headlight configuration on all 21 Litestars and on Pulses from #22 to about #182. They converted to a single pop-up style on all the rest of the Pulses, below.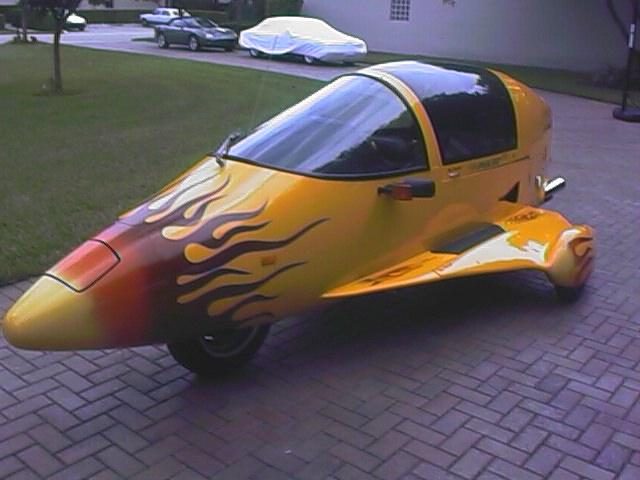 It looks like the the Scranton Litestar headlights were recessed in tubes and the Owosso Litestar headlights were encased in a larger recessed opening and covered with a large plastic covering some of which had painted edges.
RETRACTABLE -- POP-UP HEADLIGHTS:
It is estimated that somewhere between Pulse #180 and Pulse #182, Owosso Motor Car Co. changed from recessed dual headlights to the single pop-up headlight. The single retractable pop-up headlight was actually a headlight from a 1984 - 1985 Pontiac Fiero. This headlight change occurred in the month of Feb. 1986. Buyers were never given the option as to which style they wanted.
Below is a Tom Caprioli's Litestar #?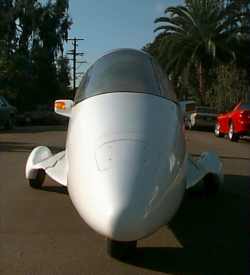 This unit has a flip-up headlight, that was a later add-on by Dan Willis. If you look at Dave McCoy's front end, you will notice that the headlight treatment is the same for all the early Owosso Pulses.
It is assumed that Tom's #008 originally has the same headlight setup.
After examining the wheel well, Tom reports that the original headlight wells were cut out and glassed over. The shape is the same as the other Owosso Litestars.
---
---
OUTRIGGER IDENTIFICATION
Below is a Scranton built Litestar on the left and an Owosso built Pulse on the right
Owosso built Litestar & Pulses used the same outriggers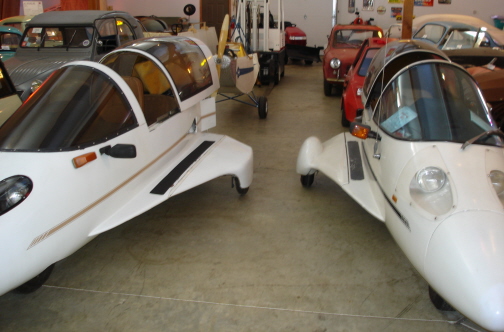 Notice the headlights. On the left they were embedded in a tube. On the right (Owosso built cars) the headlights were recessed and covered with a plastic lens.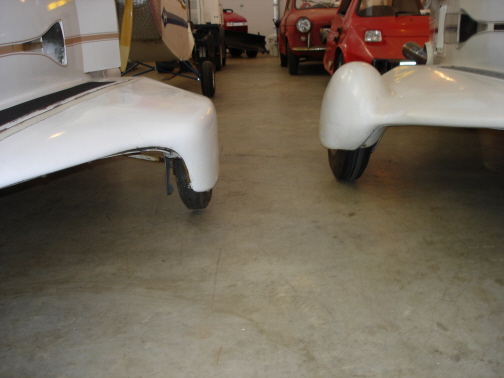 Above.....On the left is the Scranton built Litestar with the 5" aircraft type wheel. On the right..... the Owosso built cycles all used an 8" trailer tire and hub. These are readily available at any hardware store.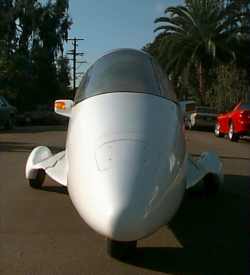 All Owosso built Litestars and Pulses have a bubbled type outrigger wheel covering.
---
Below is a 1989 Owosso Pulse #322.
A total of 347 Owosso Pulse vehicles were built from July 1985 to 1990.
Notice the retractable headlight and the tailfin option.
Notice that because of the Honda watercooled engine,
larger rear vents had to be installed for the radiator. None of the Scranton built cars had water cooled engines, they used Hondamatic 450cc engines.
---
All Litestars manufactured in Scranton, Iowa had:
2 recessed head lights - each in a tube
Plastic front windscreen without wiper
Honda 450A Hondamatic
Small rigger tires
Smooth outrigger wheelpant housing (no bubble)
Turn signal lights (look like truck clip lights)

All Litestars manufactured in Owosso, Michigan had:
2 recessed head lights
Round steering wheel
Glass front windscreen with wiper
Plastic canopy
Yamaha 400cc engine
Larger outrigger tires with a bubbled housing



Pulses built in Owosso, Michigan had:
2 recessed head lights (#22 through #182?)
Butterfly steering wheel through About #125
Round steering wheel about #126 through end of production
Glass front windscreen with wiper
Yamaha 400cc through about Pulse #263....threw body muffler
Honda water-cooled engine......from about Pulse #265 through end of production...muffler below body
Plastic canopy
Larger outrigger tires with a bubbled housing
Single retractable headlight from a GM Fiero - after #183?
---
Remember that pop-up headlights can be added to any autocycle. Look in front wheel well for tell tale signs of original twin headlight housings that have been glassed over.
Many autocycles that originally had smaller engines have been updated with larger water-cooled engines.
---
Steering and Dashboard Comparisons
---
Below is a Scranton, Iowa built Litestar dashboard and the butterfly type steering wheel
the engine used on all of these 15 Litestars were the 450cc Hondamatics and gauges
---
The Owosso built Litestars used the Yamaha 400cc engines and had round steering wheels
Below is Owosso Litestar #15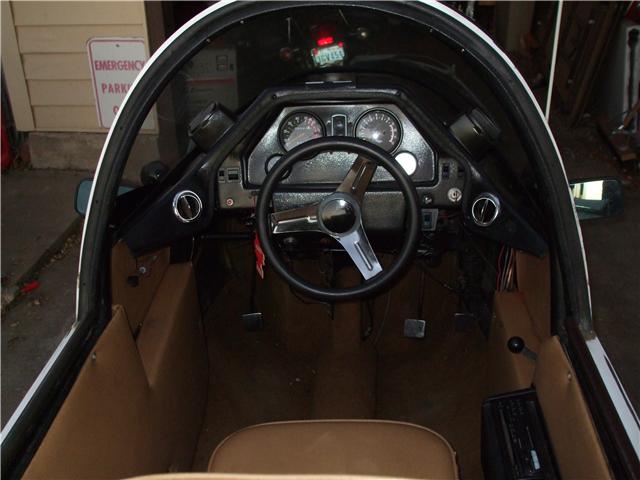 ---
Below is Owosso built Pulse showing the dashboard and the butterfly type steering wheel that was
used from about Pulse #25 to about Pulse #125 when the factory changed to the round type steering wheel.
The Yamaha 400cc engine and gauges were used until the factory
converted to the water-cooled Honda engine and gauges.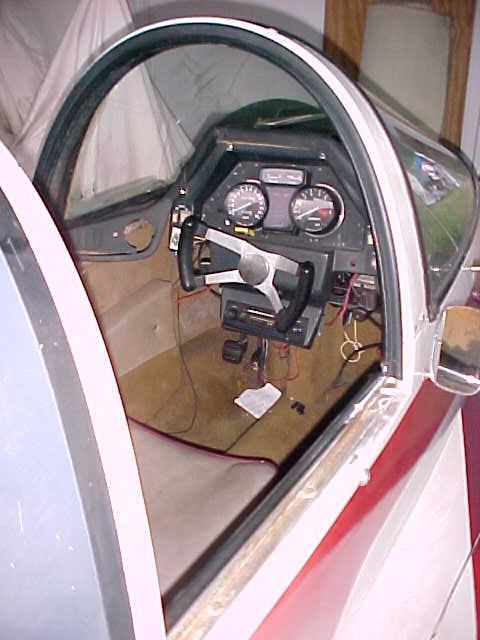 Below is the Owosso built Pulse round type steering wheel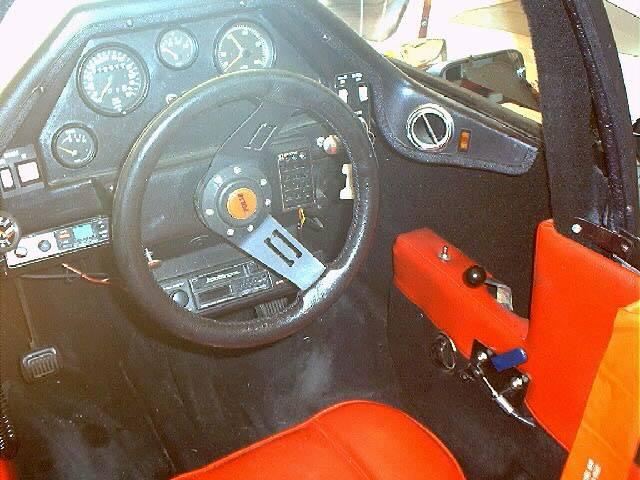 ---
Rear Turn Signal.....Owosso Litestar #1 through about Pulse #180
After #180, this type of rear turn signal was no longer used.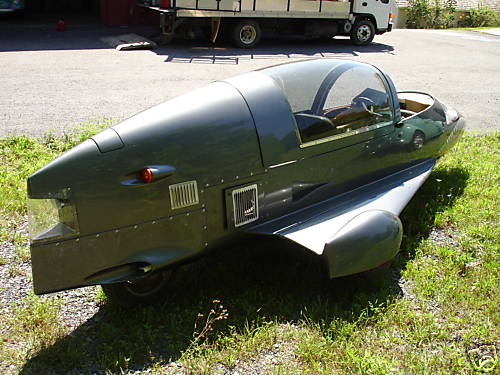 ---
Doug Walsh Comments (builder of the prototype BD-200)
These Scranton built vehicles can be identified by the small wheels, with the outrigger tension rod fix, and bent square tubing frame around the engine. Scranton originaly purchased 20 bikes and we used their first car as a test mule.

The vehicles described below are the only cars built by myself at Bede Design, and I can positively identify any of them if they are found.

The #1 factory prototype is the BD-200. This car shares no parts with any other car. Owned today by Robert McRay.

The #2 factory prototype (Chicago auto show car) had a TIG welded round tube chassis attached to the front and rear of the main aluminum tube. It used one of the first two hand laid fiberglas bodies made from new molds. It also had custom seats, no exposed outrigger link, motorcycle forks and wheels, 450 automatic, small outrigger wheels, and an aluminum dash. It was white in color with a three color stripe.

There was a 3rd car (chassis only) I built that used round tubing, and a GPZ 1100 donor bike. It belonged to a dealer (Dave Scwartz), and it was later fitted with the spare set of hand lay-up body parts that we got to build the show car with. I don't know if it was ever completed.

There was also a test car that used the very first Scranton built chassis. It started with a red paint job, but was later painted silver. This was the car that we used to develop the new suspension and car wheels/brakes right before I left Bede Design. It had the first prototype larger outrigger wheels, and I believe it was used after we left, for outrigger testing by Bruce Emmons. I dont know if that car was ever titled or sold. It can be identified by a nicer quality TIG welded front suspension, and volkswagen wheels and tires.
---
---