Pulse #199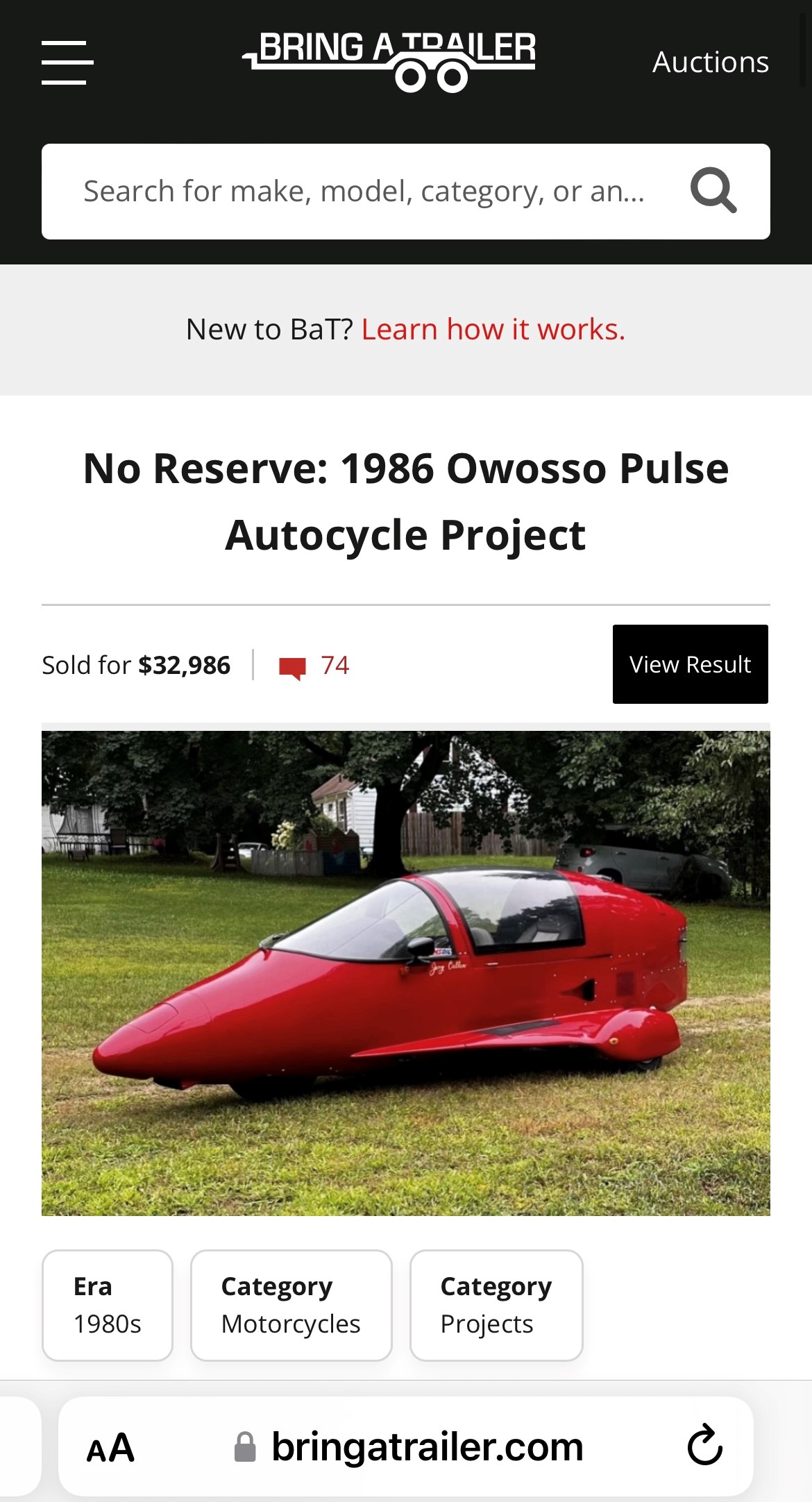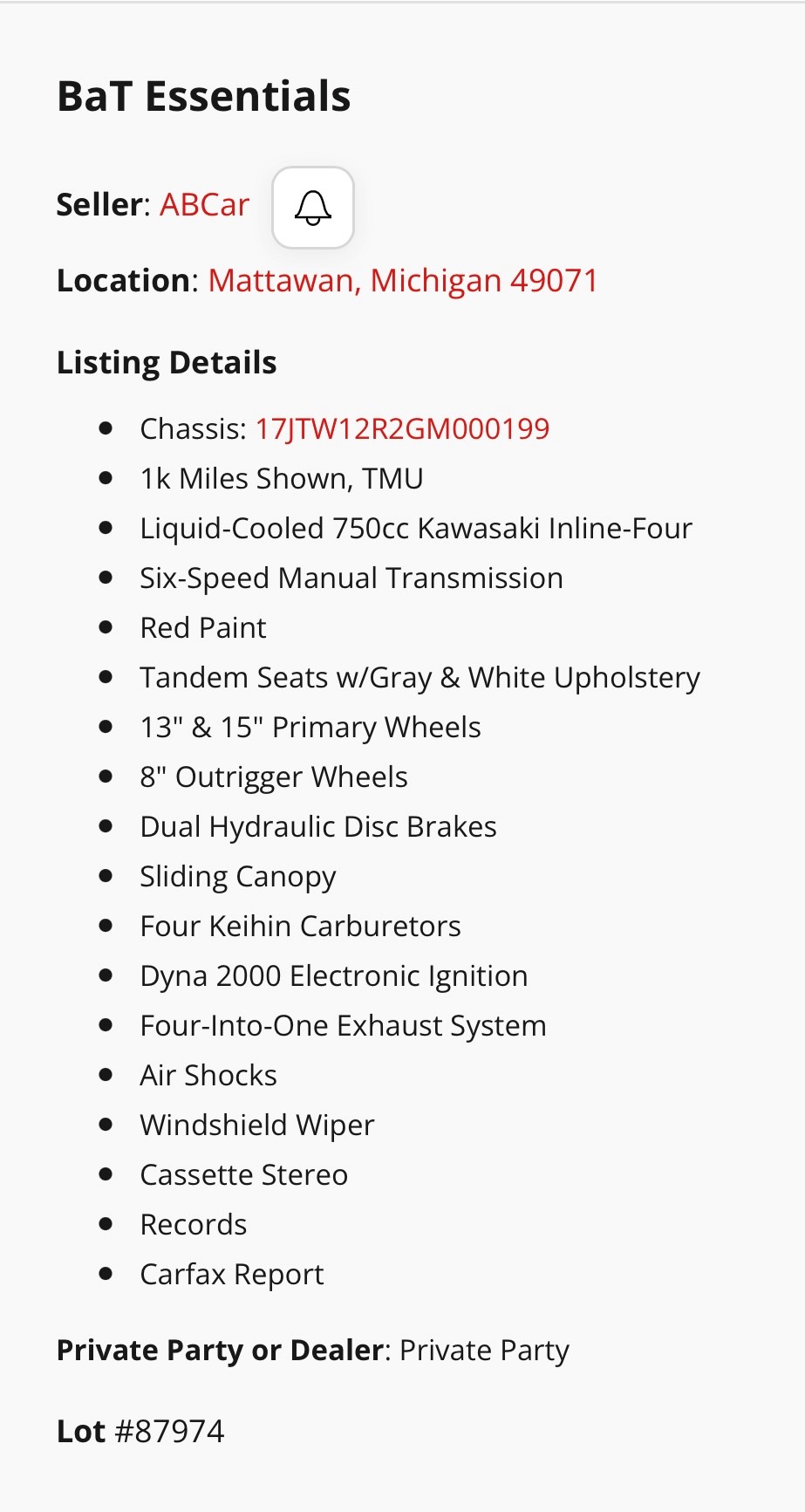 In Novemeber 2022, Pulse #199 sold on Bring A Trailer for $32,986.
Year.......1986.....Charcoal, now Red
Original Dealer..........Rose Marine...H.O. Poff - Pulse of Palestine - Palestine, TX
Owners.....Tony Burris...Don Muddiman...Ron Holcomb - CiCi's Pizza...Joel Patton - Colorado (Oct. 2005).....Gerald Callen ...Kalamazoo, MI (2005)
Body #86224198
Engine #16M-004675
VIN 17JTW12R2GM000199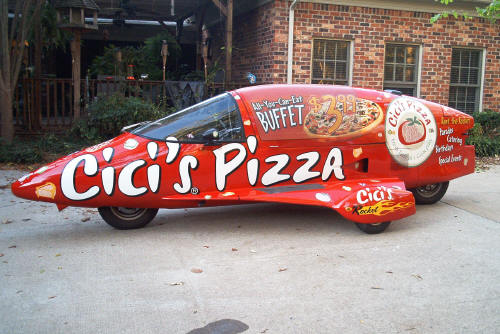 ---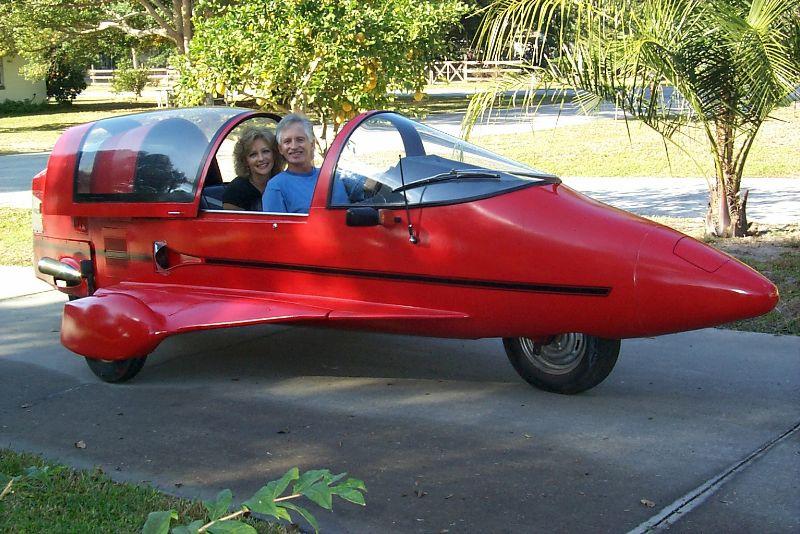 Mileage: 29,000
Color:Red, White and Blue
Engine: 750cc ZX7R inline fourcylinder (122Hp)
Transmission: Six-speeds with electric reverse
Brakes: Disk - front and rear
Seating: Two seat tandem
Radio: AM/FM
MPG: 30 - 35
Top Speed: 120 MPH+
Condition: Good
Registration: Motorcycle
Pulse #199 History
by Don Muddiman
Previous owners....Don & Jean Muddiman in 2003, above, purchased Pulse #199 from Troy Burris, who was a salesman at the Pulse dealership in Mt. Vernon, Texas in 2001.
The VIN of #199 is 17JTW12R2GM000199. It had the Yamaha 400cc engine and the interior is almost like new.
It had been sitting for two years in a barn, the gas tank was full of rust, the carbs on the engine needed rebuilding and new tires.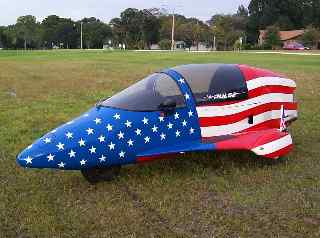 This is not your standard factory Pulse. Numerous modifications have been made to overcome the usual mechanical and over heating problems. The stock, air-cooled Yamaha, 35 Hp, 400cc engine has been replaced with a water-cooled, 2001 122 Hp 750cc Kawasaki ZX7R with 1700 miles on it. The engine is mounted using four sixty durometer rubber isolation mounts. These isolation mounts reduce the vibration from the engine to the frame. Also heat and sound insulation has been added to the engine compartment and passenger compartment to make this Pulse one of the quietest. The original Kawasaki ZX7R exhaust header, muffler and gauges were also used. The stock Kawasaki radiator is mounted up front, in the nose for a cleaner installation. An automotive twelve- inch diameter using the original thermal switch to engage the fan. The fan is mounted and shrouded to the back side of the radiator for cooling when in traffic. A custom heater core and fan system is mounted on the front bulkhead to provide heating and windshield defrosting. The ignition system is a Dyna 2000 with rev-limiter and timing adjustment. New air shocks, front and rear with an onboard compressor and gauges, allow for easy control of all important ride height. I have put over ten thousand miles on this Pulse since installing the Kawasaki engine. Top speed is well beyond 120MPH and gets there in a hurry. I purchased this Pulse in December of 2000 and started the restoration. The mechanical restoration is now complete and what remain are the interior, body and paint to complete the restoration.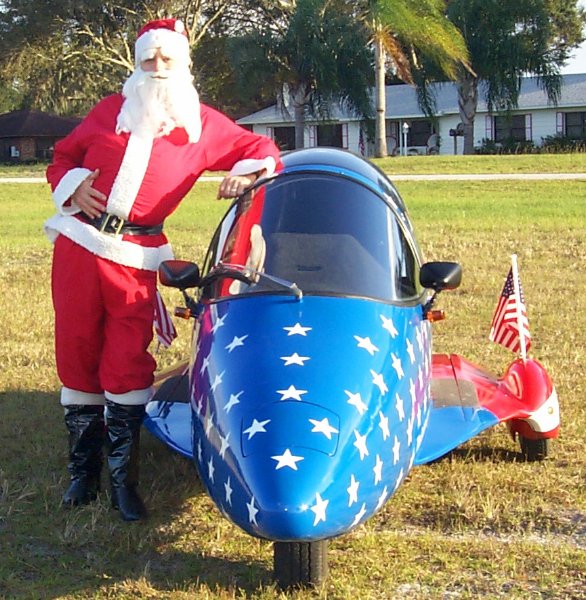 ---